'Carrow McClendon June 24, 2016 Uncategorized 0
I am thrilled to report another wonderful day, thank you Jesus!
Today was the busiest day we've had all week. Kayleigh had radiation, labs, OT, PT, and a neuro oncology visit. That was 7 hours straight at the hospital and while she was tired after it was all over she really did great.
Overall this week has been pretty smooth sailing. Kayleigh has had a few headaches break through on occasion but thankfully none of them were terrible. However, because they have been occurring her doctor decided it would be best to stay on the same dose this week and see where we are next week. Thankfully he does not feel like we need to increase which is a direct answer to our prayers. Thank you Lord!
One side effect Kayleigh is having is some hair loss at the radiation site. That is not unusual and hers is not terrible. Thankfully as long as I pay attention to how I style her hair no one will ever know. But every time I brush her hair and more strands show up in the brush she gets a little concerned. Her friends are battling the same thing so it is a tender subject around here.
In order to make Kayleigh feel a little better about it I pulled out my yarn and crochet hook and went about making a hat. I figure even if she doesn't like what I make I can donate them to St. Jude. But she was pretty excited. She was even more excited when she googled "crocheted hats" and found an Elsa hat complete with hair. She sent me the screen shot at 9:00 this morning and has been cracking the whip all day for me to get it done. Patience is NOT one of her strong suits.
So tonight we are snuggled up in the bed. I'm enjoying another night of holding my baby while she sleeps and praising the Lord for another good day. I have no clue what tomorrow holds and I have discovered that I don't need to. God has never failed me and He won't start failing now.
Here are some of my verses for this week…
Luke 12: 25 & 26
25 Can all your worries add a single moment to your life? 26 And if worry can't accomplish a little thing like that, what's the use of worrying over bigger things?
Matthew 6:34
So don't worry about tomorrow, for tomorrow will bring its own worries. Today's trouble is enough for today.
Philippians 4:6-7
6 Don't worry about anything; instead, pray about everything. Tell God what you need, and thank him for all he has done. 7 Then you will experience God's peace, which exceeds anything we can understand. His peace will guard your hearts and minds as you live in Christ Jesus.
Romans 12:12
Rejoice in our confident hope. Be patient in trouble, and keep on praying.
Deuteronomy 4:8
Do not be afraid or discouraged, for the Lord will personally go ahead of you. He will be with you; he will neither fail you nor abandon you.
I pray each of you that have read this far are encouraged. Please keep praying. Know that we love you very much –
Until Tomorrow,
'Carrow💜
A kitty cat mask from a goody bag sent to the hospital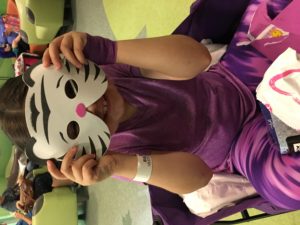 A beautiful treasure from a sweet friend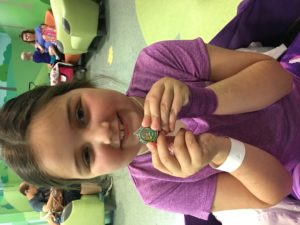 Playing hockey for PT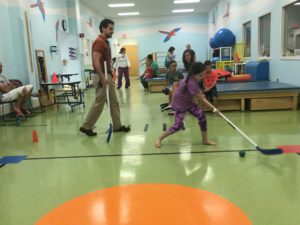 She really enjoyed it!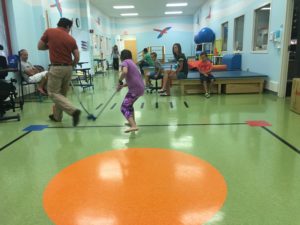 Her Elsa hat