'Carrow McClendon July 26, 2016 Uncategorized 0
Thank you Jesus for another day…
Today is the first day the Kayleigh has truly seemed like herself since before we disembarked the cruise ship. We know her healing is a process but it certainly is nice to see progress. She even felt good enough to stay with our wonderful sitter so Tim and I could run errands. It was so nice for us to just be together and actually be able to talk freely!
Kayleigh still has some lingering symptoms, particularly balance issues and some involuntary muscle contractions in her arms and face. We hope that as she heals and we maintain the steroid dose that these things will calm down and return to normal. We still very much want to get her off the steroids, but for now, managing the swelling to control the symptoms is a higher priority. Hopefully, by the time we get back to St. Jude, she will be much more stable and we can begin to wean again.
Our week at home is moving by swiftly. My "to do" list is still quite long but I am praying the Lord will help me get all of the important things in order before we leave for St. Jude this Sunday. As the scans near we are also trying to prepare of stage 2 of Kayleigh's treatment. The hard part is we really won't have a direction until we see the scans, so right now we are trying to prepare for multiple scenarios.
We believe that we are beginning to see the Lord pointing a certain direction but of course it is the path that seems to have the most obstacles. The good news is we know that if this is God's plan for Kayleigh then He already has a plan for us to leap every hurdle. We are also praying that if this is not the right path that God will make that clear as well.
So for now here are our prayer requests…
1.) Complete healing this side of heaven!
2.) Symptoms to subside, balance to return and cranial nerves to relax back to normal.
3.) Clear direction for the path to phase 2 and God to clear a path through all obstacles.
4.) Organization of all the Homefront details so the children are ready to start school and our home is in order.
Thank you for continuing to cover us in prayer. We count on each of you more than you can possibly know to help is carry this load. Because of our prayer warriors this load is not too heavy to bear. We love you and are thankful for you.
Galatians 6:2
Share each other's burdens, and in this way obey the law of Christ.
Until tomorrow,
'Carrow 💜
Precious big brother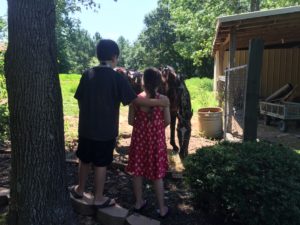 Treasures from a good friend (Cole has treasures too, he just wasn't feeling picture time)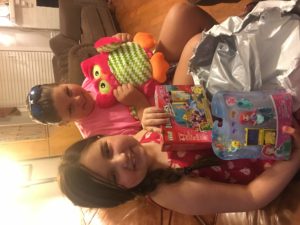 checking out our school with awesome Miss Amanda!