'Carrow McClendon October 22, 2016 Uncategorized 0
We are home! How thankful we are to be home and in our own bed tonight. It was a long day traveling home, getting started with home health care and catching the big kids up on what is going on.
I'm afraid tonight I'm exhausted so this will be a short post. Please pray that Kayleigh settles in to being home. She had a round of vomiting tonight but seems to be feeling a bit better. Our prayer is that tomorrow she can recoup and feel better.
I will try to give you all a better update tomorrow as to how she is and where we are when I'm not quite so tired. Just know that we need you to keep praying for her miracle!
Psalm 107:19-21
19 "Lord, help!" they cried in their trouble, and he saved them from their distress. 20 He sent out his word and healed them, snatching them from the door of death. 21 Let them praise the Lord for his great love and for the wonderful things he has done for them.
Psalm 30:2-3
2 O Lord my God, I cried to you for help, and you restored my health. 3 You brought me up from the grave, O Lord. You kept me from falling into the pit of death.
Until tomorrow,
'Carrow💜
Hugs good-bye with Mike & Anna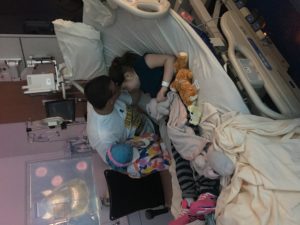 Posing with Cole's art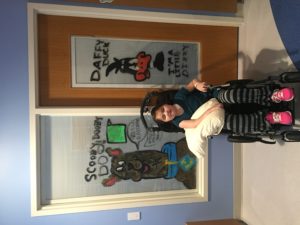 Settling in at home