'Carrow McClendon October 4, 2016 Uncategorized 0
Happy Monday everyone! …Monday's are typically crazy around our house with everyone going in all directions full speed. Grace and Cole are back at school and of course there is ball practice. Kayleigh had a Dr's appointment in Birmingham with a chiropractic adjustment and some new vitamins to try and help with the daily tummy issues. Tonight she was able to put away a steak which she asked for all day and realized shortly after eating she may have eaten too much. As I was helping tonight I truly noticed Kayleigh's frustration in her own ability to do some basic things. That was not easy to watch because I am the worlds worst about admitting when I need help. I had to stop and reassure her that it was ok for me to help her. She had that short moment of being upset and it was back to business as usual being her silly self before bedtime. At the same time This evening I am picking up that 'Carrow is in extreme frazzled mode just from running all over and being the incredible mom that she is. Most times I don't pick up on that early enough but today it was pretty evident how worn out she truly was. So with all the craziness that normal daily life throws our way, it is very easy to get distracted from God's plan and direction that he is clearly pointing us to go and what He is expecting us to do. But even with the daily struggle our God is bigger and is "Our Revival".
Proverbs 4:25-27
25 Look straight ahead,
and fix your eyes on what lies before you.
26 Mark out a straight path for your feet;
stay on the safe path.
27 Don't get sidetracked;
keep your feet from following evil.
My Revival
Lauren Daigle
Lyrics
I will run and not grow weary
I will walk, I will not faint
I will soar on wings like eagles
Find my rest in Your everlasting name
You are my revival
Jesus on You I wait
I'll lean on Your promise
You will renew my strength
Please continue to pray for healing this side of Heaven. Pray for 'Carrow to be able rest. Pray for strength in Kayleigh's right side.
Thank you to everyone for the continued support and prayers coming from all over!
Good night and always be thankful for another day !
Tim💜
Thankful for another day with this crazy bunch!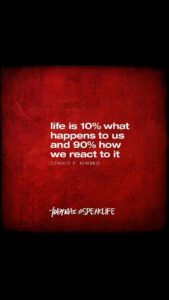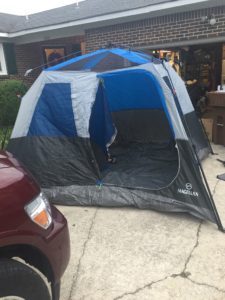 Cole testing his new tent in the driveway to make sure it's big enough.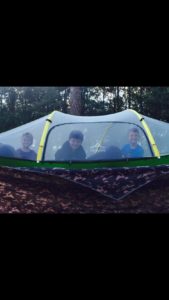 Cole and his Scout buddies in a very cool tent about 6-8 feet off the ground.