Happy Sunday!
And what a wonderful, restful day it has been. At least it was restful for Kayleigh, Cole & myself, Tim and Grace actually drove almost home for Grace's ball practice and then turned around and drove straight back to Memphis. Yes, it is a long drive, but it is doable. God is blessing us with family time to support and love Kayleigh while still encouraging Grace and letting her do what she loves. This is another one of those times where God has given us more than we knew to ask for and we are thankful!
We have also been blessed with such wonderful support from… well… everywhere. I am always hesitant to single people out on this forum because every gift, comment and prayer is so greatly appreciated. I do not ever want to hurt someone's feelings buy neglecting to recognize them. But tonight I need to recognize a couple of special little girls. Twice since Kayleigh's diagnosis we have had young ladies, Kayleigh's age, celebrate their birthdays in Kayleigh's honor. Miss Mattie Reynolds delivered a box to our door just weeks after Kayleigh's diagnosis filled with wrapped gifts. That sweet girl gave Kayleigh every birthday gift she received. Kayleigh was amazed. We left that beautiful box in our living room for months and every now and then, when Kayleigh was blue, she would unwrap a gift. She unwrapped the last one the day before we returned to Memphis.
Then, tonight Miss Rory Peebles celebrated her birthday with an all out Purple Birthday Bash! Everything from the cake to the party favors were all purple in Kayleigh's honor. This sweet girl has been planning the purplepalooza for weeks. She had hope that Kayleigh would be able to attended. She actually picked the Hartselle Pool for the location because she knew Kayleigh had not been able to swim all summer and Rory had hoped this would be Kayleigh's chance. Boy, I wish that could have worked, too. Not only did Rory plan the purple party, she also asked everyone to bring money for Kayleigh instead of gifts for her.
I don't have the words to say thank you to these precious children. They each just wanted to do something for Kayleigh, but they can't know how such selfless gifts touch my mother's heart. The prayers, hugs, love, messages, cards and gifts that we have received from children might be the most humbling. And to all of you wonderful parents who have sent the messages, mailed the cards, taken the pictures and made the posts so we could see these precious children in action – we thank you. In a world full of crumminess these children are being the light. Nice job parents – please keep raising children that love and put others first – that gives me hope for the future!
Tonight I am posting the page from my Charles Stanley devotion "Every Day In His Presence". It reminds we that this path we are on is not an accident. Our Kayleigh Bug is making a difference in the lives of everyone she comes in contact with. And while yes, this is a hard place for us to be, we are seeing God grow us in ways that would not be possible if not for the troubles. Nothing will drive you to your knees faster than your children in need.
The devotion also reminded me to ASK… So, please Lord Jesus, hear my prayers – prayers that we will continue to walk this path, sure and steady. That we will not look for the easy way out or a shortcut. That we will be faithful to share what you are doing in our lives, each day, honestly and openly, the good and the bad. Please Lord, help us grow our children to love you and look to you in troubled times. Help us show our children that some of your most beautiful blessings can grow from some of the most acute heartaches. Please Jesus, use us as you see fit and Lord, if you are willing, please Jesus, grant us Kayleigh's life. Our request Lord is complete healing, this side of heaven, for a long, full life. A life to spend honoring you and sharing your goodness and glory through her story. But no matter how you answer that prayer, my heart will CHOOSE to say more blessed be your name.
Until tomorrow my friends. Thank you for your prayers,
'Carrow 💜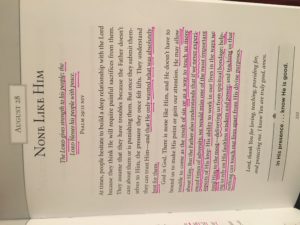 Beating Daddy at checkers 💜