Christmas Eve is here. The stockings are hung, the gifts are wrapped, and I believe I just heard the big guy in the red suit stop in and leave his loot. Excitement is in the air.
Tonight, after all the craziness was done, and I could sit for just a moment – my heart broke just a little. Oh how I miss my sweet girl. So many gifts are under our tree, yet I wrapped none for her. I am sad for me but so happy for her. My Kayleigh is worshiping our savior face-to-face. What a joy! It's just so hard to be the one left behind.
I played some of my videos tonight just so I could hear her sweet voice. Hear her tell me she loves me. Hear her spunk and attitude. It is good to be able to remember.
As I go to sleep tonight my heart is heavy and my cheeks are wet, but that's ok. I'm going to sleep tonight and wake tomorrow to the beauty of Christmas Day. I'm going to worship and celebrate. I am going to be renewed because God tells me His promises are new each morning. I'm going to enjoy being with Tim, my children and our families. Yes, I'm going to miss my little spitfire. I'm going to be happy she is have the best Christmas ever.
We would very much appreciate your prayers for all of us to be able to find joy, peace, and comfort I every moment tomorrow.
Psalm 30:5b
5b Weeping may last through the night, but joy comes with the morning.
Lamentations 3:23
23 Great is his faithfulness; his mercies begin afresh each morning.
Until tomorrow,
'Carrow💜
Waffle House diner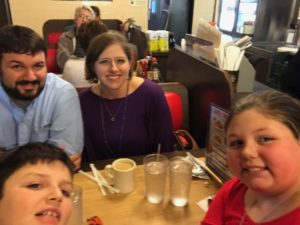 Santa came!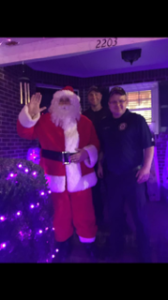 Candlelight Christmas Eve service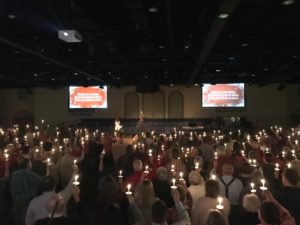 Merry Christmas tomall and to all a good night💜