Thank you Lord for a wonderful day. Tim and I left the kids with his family last night. They were thrilled to play with cousins instead of cleaning house. Tim and I were thrilled to be able to actually get all the Christmas decorations down without any whining or complaining! It was also nice to have a little time together to be able to talk freely about how we are feeling and life in general.
I am so thankful most days we do pretty well. As I look at our lives, I am so thankful to have Tim as my balanced counterpart. He's strong when I'm weak, clear headed when I'm fuzzy, and always steady. I'm pretty sure I make his life a lot more interesting than he ever anticipated. Just one more thing for me to continue to be thankful for. And a reminder that God is good and his plan is perfect in all things. We both miss our Kayleigh Bug but together, with our faith, we are able to weather the waves of grief and sadness as they come.
So tonight, Christmas is put away until next year. But I'm not in a hurry for 2017. You might thing I would want 2016 behind us, considering all that went on. But in truth, 2016 is the most amazing year of my life. I have learned so much, grown so much. My perspective about what is important has completely changed. This, the year of Kayleigh, has made me a better wife, mom, and person. God has grown our faith and blessed our family. Yes, we miss our girl, but we know where she is. And we know we will be with her again. Oh, what a day that will be!
Revelation 21:4
4 He will wipe every tear from their eyes, and there will be no more death or sorrow or crying or pain. All these things are gone forever." 5 And the one sitting on the throne said, "Look, I am making everything new!" And then he said to me, "Write this down, for what I tell you is trustworthy and true." 6 And he also said, "It is finished! I am the Alpha and the Omega—the Beginning and the End. To all who are thirsty I will give freely from the springs of the water of life. 7 All who are victorious will inherit all these blessings, and I will be their God, and they will be my children.
I pray you know this God of mine. He makes life worth living, even when nothing makes sense.
Until tomorrow,
'Carrow💜
My favorite elf…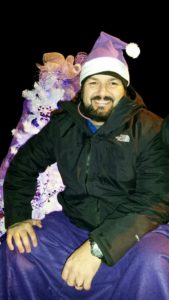 That does anything to make me smile…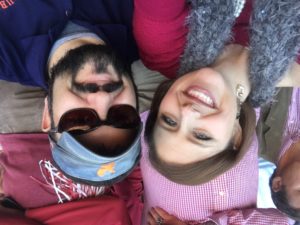 And flies across the country to see me… I am so thankful!