I sit here tonight looking at a gift from a kind group of local friends. It is a sweet reminder that brings up mixed emotions. Thankfully more good than sad, but the sad is still there.
I have also read tonight about two more DIPG warriors that have been taken from us this week. One of them was a young college student, which is pretty rare but not unheard of for this disease, and the other a 5 year old child. What really pushed me to write tonight was reading about this 5 year old and seeing the words "a bucket list for a 5 year old" in a story written about him. Can you imagine? Friends, Kayleigh was only 7 and she never truly grasped how horrible of a disease she was fighting. That kind of load is more than a 5 or 7 year old can even begin to process, not to mention too much for most of us parents.
All Kayleigh needed to know was that she was loved, protected, and she would never have to fight alone. I can guarantee that we did anything and everything (other than get her a purple taser) that our child wanted to do for her last 6 months on this earth. Now, every time I read an update about one of our brave DIPG fighters whether they are fighting in the U.K., US, or other countries, it reinforces what we are doing with the PFK Foundation.
We want to raise support and awareness for this disease so that we can defeat it. This disease eventually traps the child in a body that is functionally cut off from the brain due to the location of the tumor. Sadly, the child is mentally aware of everything going on until they take their last breath. This is not an easy topic for any of us, but we want everyone to know why DIPG is so terrible. Kayleigh's mutation of DIPG was extremely aggressive, and even with treatments that normally slow or stabilize the tumor for some period of time; hers took her from us in a mere 6 months.
God has blessed us tremendously since Kayleigh's diagnosis last May, mostly by hearing how her story has continued to spread and influence people all around us. In the next few days we will be sharing information about our PFK fundraising events. The funds will enable our foundation to donate to DIPG clinical trials at St. Jude Hospital as well as other DIPG research facilities. We will also be able to give back to a community that has graciously and generously taken care of Kayleigh and our family.
The 3 things we have centered the foundation around are Building Faith – Sharing Hope – Defeating DIPG. It is our prayer that this foundation will become another strong force with the rest of the DIPG foundations to end this disease. We invite all of you to participate in the upcoming events if you are local, or consider becoming a sponsor if you are many miles away. Stay tuned for event information coming your way.
As always, we thank you all for the continued love and support. These kids and their families are worth our time and effort and need our help finding a cure.
Luke 20
36 And they will never die again. In this respect they will be like angels. They are children of God and children of the resurrection.
38 So he is the God of the living, not the dead, for they are all alive to him."
Until tomorrow
💜Tim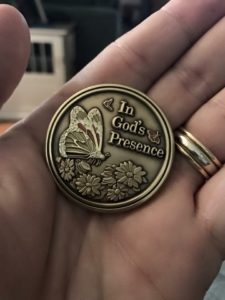 Front of the gift we received today.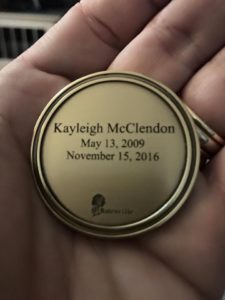 The back of the coin..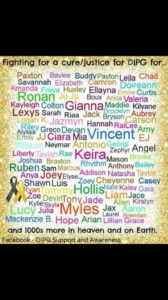 Kaykeigh's name among many of the DIPG Warriors fighting this disease.
#dipgawarenessandsupport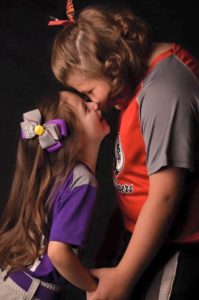 In honor of softball season starting up here are a couple of my all time favorite pictures of KB and Grace.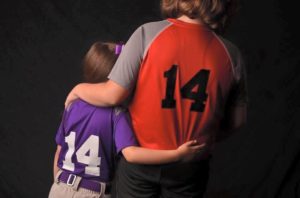 PFK #14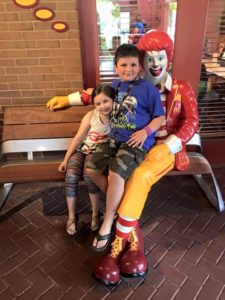 Kayleigh and her buddy/partner in crime at the Ronald McDonald House of Memphis.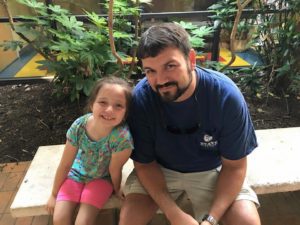 One of my favorites now.. Originally is was not.  I was not smiling and and we were about to find out for the first time that Kayleigh had a brain tumor.