Island Update 2.0
It's almost 2 am here in Punta Cana. It is eerily calm outside, the wind is blowing in from the east, but it isn't unpleasant – knowing what lies on the horizon is what makes it unsettling. This area is now under a hurricane warning. Irma is battering Barbuda and Anguilla now and will continue westward. The eye appears to be tracking just north of this island, but with sustained winds of 185 mph and gusts clocked over 201 mph it's going to be scary.
We were not able to get a flight before the storm hits so we are making plans to ride it out. The southern part of the island is outside of the hurricane warning so we are relocating there. While we believe this is the safest option, we also know that no matter where we are on this island we will feel the hurricane. The last I saw, hurricane force winds are being measured as far as 60 miles from the eye with tropical storm winds and additional 160 miles out.
As always, God has been good. He's given us a fantastic travel agent to get us in a safer location and a wonderful local contact to guide us in decision making and help in an emergency. We will make the transfer to the new hotel tomorrow morning (we hope) and give us time to settle in. Currently, the storm track shows Irma making landfall here late tomorrow or early Thursday morning. We will continue to update you from here as things change.
Be praying for the people in the Caribbean – they are going to need it!
Joshua 1:9
"This is my command—be strong and courageous! Do not be afraid or discouraged. For the Lord your God is with you wherever you go."
Until tomorrow,
'Carrow💜
How it looked today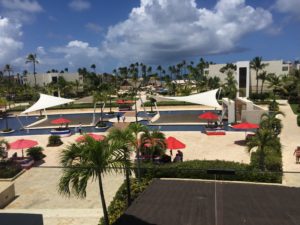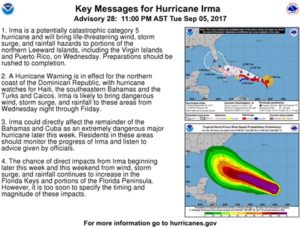 Please be praying got the people on thsee islands!