It was a beautiful Friday.
Kayleigh and I had a lovely afternoon just the two of us. We took a little time to stop by some of our friends to say hello and thank them for their support. Our little town is truly amazing. Local businesses are supporting our sweet girl wearing purple, multiple times anonymous people have kindly paid our check when we are out to eat, the school has her name on the sign out front, our mail lady has a big purple bow on her mail truck, every mailbox in our neighborhood has a purple ribbon. No matter where I go, people stop me to let us know that they are praying for all of us. It is so good to be home!!
As we prepare to return to St. Jude we are slowly but surely knocking items off the to do list. I think by the time we leave on Sunday we will have things under control and manageable. It's a very strange place we find ourselves in these days. We have no plans past getting scans. We know we need to do something, we just have no idea what that is yet. And trying to plan when you don't know what your planing for is quite difficult! So rather than focus on the unknown ahead we are just enjoying each day and making the best tentative plans possible.
Please keep on praying for healing and direction. We know God is going to move all the parts to the places they need to be and that includes us!
Jeremiah 29:11
For I know the plans I have for you," says the Lord. "They are plans for good and not for disaster, to give you a future and a hope.
Until tomorrow,
'Carrow💜
This amazing bear is made completely from one of her All Star uniforms!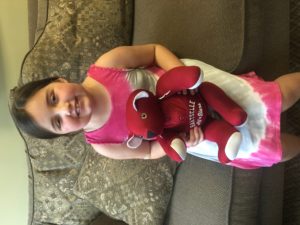 Visiting friends at People's Bank!