Phase 1 of this journey is rapidly coming to a close. It's hard to believe it's been 7 weeks since our world turned upside down. We have finally settled into a normal, comfortable routine. Safe is the word that comes to mind. We have made wonderful friends, Kayleigh is tolerating radiation so well, the doctors believe the tumor is probably responding well because her symptoms are so much better… Safe.
A large part of me would like to stay right here in this happy little bubble for the foreseeable future but I know that isn't what God has in store for us. Our time in phase 1 is up and it's time for new adventures, new lessons, more friends, it's time for change. Tomorrow we will
start packing and loading and Friday we will drive home away from safe – but that is OK. We know that God has a plan
Please continue to pray with us for clear direction for phase 2 and for Kayleigh's complete healing and no need for phase 2!
Until tomorrow,
'Carrow💜
We love our Anna!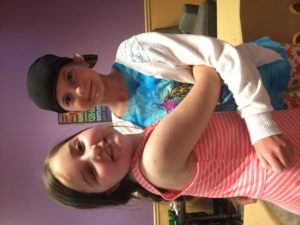 Playing with friends