Thank you friends for your amazing response for Kayleigh's project. You all are amazing. Just seeing how far and wide her story has gone does my heart good. Seeing God at work – somehow that helps.
Kayleigh is continuing to decline rapidly. Far more rapidly than we are prepared for. Wednesday we were chatting and going out, tonight we prepare for God to take her home. Oh how my heart breaks. I love this child. She is a piece of my heart living outside of my body and I want nothing more than my precious girl to leap off of this bed and ask us why we are all crying. Yet I don't think that is the Lord's plan for us. Oh how I would love to be wrong about that – but no matter how God chooses to heal Kayleigh – we know His plan is perfect and we trust Him completely.
Would you please storm heaven for Kayleigh again? This time my prayer is for complete peace. For her to feel safe, loved and protected. I pray that she is able to see Jesus and have great joy about going to heaven. I pray for no fear, only joy.
And for us who are left behind – we are so very broken. Knowing that God is good and in control doesn't lessen the grief but it does help us hold on to joy. So tonight I write to you from this hospital bed, hiding my precious girl for a little bit longer. Please continue to hold us up in prayer, we need you now more than we ever have.
Romans 8:
26 And the Holy Spirit helps us in our weakness. For example, we don't know what God wants us to pray for. But the Holy Spirit prays for us with groanings that cannot be expressed in words. 27 And the Father who knows all hearts knows what the Spirit is saying, for the Spirit pleads for us believers in harmony with God's own will. 28 And we know that God causes everything to work together for the good of those who love God and are called according to his purpose for them.
Until tomorrow,
'Carrow💜
And yes, that is a Christmas tree – Kayleigh asked for one tonight so Daddy pulled it out of the attic immediately.
Cherishing every moment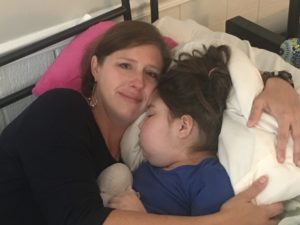 Kayleigh had a special ornament for Grace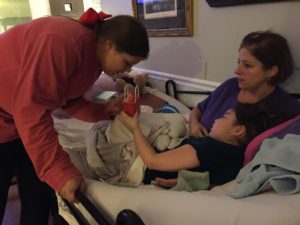 And one for Cole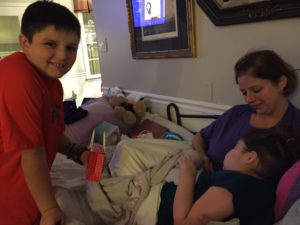 Merry Thankful Halloween from the McClendon's