Hello Friends,
Today has been a quiet, beautiful day. I am writing you from Kayleigh's side. God has not called her home yet and we are continuing to treasure the moments. The Lord woke us this morning to the most beautiful gift. Kayleigh – alert! Her eyes were clear. Her speech was strong. We were able to understand her easily. It was glorious. Our perfect little window of clarity lasted for 15 gorgeous minutes. As far as gifts go, that was perfect. After those few minutes she began slipping again.
It was a quick slide this morning, back to where she was yesterday. She is still with us but is often hazy. She's groggy and tired but she fights sleep tooth and nail. It's almost like she knows it's possible she will go to sleep and not wake up. Last night as she was drifting off to sleep she told me "I'm not ready to go…" I don't know if that was her complete thought or if she was telling me something else. But the Lord is graciously taking care of Kayleigh. She didn't go anywhere last night, she's still here.
The other thing she has been continuing to say quite clearly for the last few weeks is "when can I get my ears pierced?" Ha! Even in death she is my spunky little girl. I kept thinking she would forget, that the disease would erase that from her mind… um, no. She hasn't forgotten that and has asked every day for the last two weeks. This week I had a precious friend ask if there was anything Kayleigh wanted – and she meant anything. Disney World in the front yard was one of the options. So I thought on that for a few days and as Kayleigh continued to asked consistently I finally told her of Kayleigh's wish yesterday. Today the fairy and friend showed up, and Princess Kayleigh has her sparkly earrings. I can now say we have officially granted Kayleigh's every earthly request. Thank you Lord for answering every need.
Things like that seems so small, but to me it is God tying the final ribbons on this beautiful, elaborate, priceless gift. You see, God is making sure that I have no regrets. That I can't look back at any point and say "I wish I had…" All these little things are the final touches – perfecting my memories of Kayleigh here with me. Oh how I don't want her to go, but oh how thankful I am that I serve a God that cares for me. That knows how badly I am hurting and is meeting me where I am. Answering needs I didn't know I had.
Tonight as she valiantly fought sleep she said two clear things, "please don't leave me," which was an easy promise to make, I will not leave this precious baby. She is my treasure, my heart, my children are God's most precious gift to me – no, I won't be leaving Kayleigh. And "can I stay with you forever?" Oh my yes. Precious girl, you can stay with me forever. How can I explain to her that she will never leave me? Even if she leaves this earth she will be with me forever. She is a part of me. So I just said yes. Yes, sweet baby, you can stay with me forever.
I know God is preparing Kayleigh's heart to go home to be with Him. I know he is preparing ours too. My prayer continues to be for peace, comfort, and no fear for All of us. I'm praying that Jesus will make himself known to Kayleigh so that she is happy to see him. I'm praying for Grace and Cole as they experience this transition, that they will see God's beautiful love, mercy and grace on display. How our family handles this is going to be a large part of their spiritual foundation which will be what they build their lives and walks with Christ on. Our prayer is that we are helping them build sound foundations. Kayleigh will have all the joys of heaven – Grace and Cole will have to mourn and continue to live in a fallen world. Please Lord, help us point our children to you.
As always, we appreciate all of your love prayers and support. Thank you for your messages, calls and support. They are coming in so fast that we are not able to respond to them all just yet. Yet I know when I do open those messages they will be at the right moment when I need them most. So please, don't be offended if we can't respond right away. Just know that we value your love and support very much.
Thank you al for helping us carry this burden
Galatians 6:2
2 Share each other's burdens, and in this way obey the law of Christ.
Here is our hope…
Psalm 121
1 I look up to the mountains— does my help come from there? 2 My help comes from the Lord, who made heaven and earth! 3 He will not let you stumble; the one who watches over you will not slumber. 4 Indeed, he who watches over Israel never slumbers or sleeps. 5 The Lord himself watches over you! The Lord stands beside you as your protective shade. 6 The sun will not harm you by day, nor the moon at night. 7 The Lord keeps you from all harm and watches over your life. 8 The Lord keeps watch over you as you come and go, both now and forever.
Until tomorrow,
'Carrow💜
Precious family time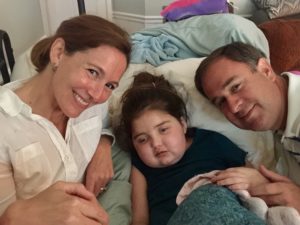 Cousin therapy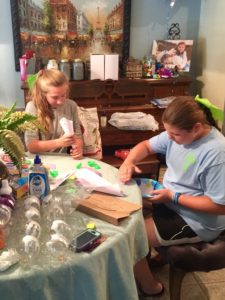 Cousin therapy part 2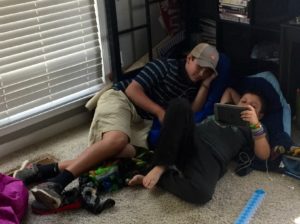 Getting her eats pierced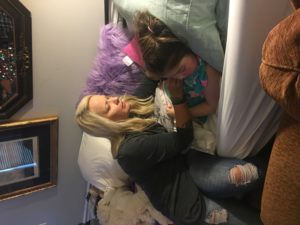 Why yes, they do sparkle!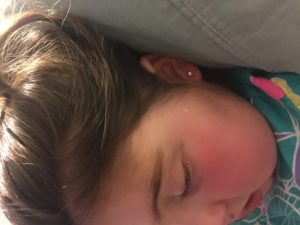 Kisses from sissy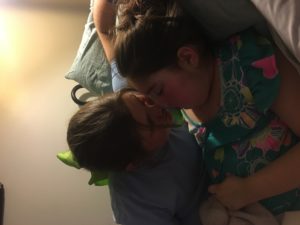 The three amigos, all in Kayleigh's bed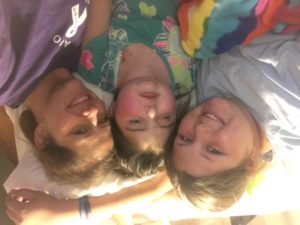 Brither love (and guard dog Max)