Mercy! What. A. Day.
I must say I am glad to be tucking my sweet girl in for the night and for this day to be done. Kayleigh had her appointment this morning at the Huntsville St. Jude affiliate. We arrived at 10:30 anticipating a quick exam and round of antibiotics. That however, is not what transpired.
We wound up staying at the clinic until nearly 4:00 this afternoon. She saw the nurse, nurse practitioner, and oncologist, all of which we discussed the tummy troubles with. We saw physical therapy about her feet that are hurting any time she walks more than a few steps. She had blood drawn, a flu shot (that was a huge disaster), the IV infusion, IV flush and finally IV removal.
Kayleigh is always such a trooper. Even with her sore and bruised little hands she soldiers on like a champ. But today, for the first time, my champ lost it. All due to the flu shot. I guess just the idea of a shot sent her over the edge. The doctor and nurse discussed it in front of her but then it took about an hour for the shot to actually get there and be done. In that hour I watched her pick her tiny fingers until they bled and cry giant, silent, crocodile tears. When it came time for the shot my child that never twitches nearly took a swing at the nurse. And honestly, I don't think I would have stopped her. Thankfully I didn't have to stop her. She managed to pull herself together. It never ceases to amaze me just how much grit this little firecracker has. Even when she is at her most broken. All of us grown ups could take lessons from these precious children fighting nasty diseases.
Because she was such a trooper we stopped at Hobby Lobby in the way home to get a prize and finally enjoyed our lunch at 4:30 this afternoon.
Unfortunately, between the flu shot and the antibiotic she feels terrible tonight. Her arm is hurting from the shot, her head is hurting, her stomach is hurting, and tonight when she took her chemo it came right back up – along with what little she was able to eat. And yet, even with all of that, today is a good day. It's a good day because I have had another day with my baby and tonight I'm curled up in the bed with her in my arms as I write this. Nothing is better than being able to kiss her head.
My prayer tonight is for a better tomorrow – for many, many, many more tomorrow's. For this tumor to shrink a little more each day. For Kayleigh's strength to return in her right side. For no steroids and no need for chemo. My prayer is for a miracle. It's a tall order, but thankfully my God is bigger and He is infinitely able to do exceeding abundantly more than I can imagine or dream – and I dream big – so I'm expecting big things.
Please continue to cover our sweet girl in your prayers. We know they are making a difference. Even on hard days God is good.
Psalm 40:1-3
I waited patiently for the Lord to help me, and he turned to me and heard my cry. 2 He lifted me out of the pit of despair, out of the mud and the mire. He set my feet on solid ground and steadied me as I walked along. 3 He has given me a new song to sing, a hymn of praise to our God. Many will see what he has done and be amazed. They will put their trust in the Lord.
Jeremiah 32:27
"I am the Lord, the God of all the peoples of the world. Is anything too hard for me?
Romans 4:21
He was fully convinced that God is able to do whatever he promises.
Where ever you are dear friends, I pray you will never forgetting God is bigger than any situation you are in.
Until tomorrow,
'Carrow💜
We were so thankful Bess went with us today to help keep Kayleigh occupied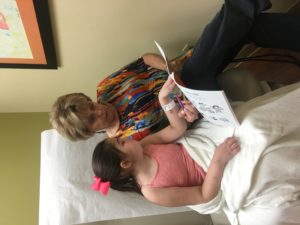 It was COLD in the clinic!!