It's been a little bit better day. But let's be honest, after yesterday, we didn't have to have much improvement to be a better day!
Kayleigh has still been batting stomach pain all day. We have worked hard at eating really small, bland meals every few hours instead of large meals. The steroid is still making her hungry and she is NOT happy. The hard part is that everything makes her stomach hurt, and I do mean everything. So her thought process is if it's going to hurt anyway just give me pizza, or spicy salami, or pasta with red sauce. It's quite difficult to reason with a "hangry" 7 year old. I keep explaining that at least bananas and apple sauce hurt less but so far she's not pleased.
My prayer is that we will get through the next few days and that her stomach will start to calm. Of course 27 days from now we have to all of this over again – because of Kayleigh's lower lymphocytes she will have to have a second flu shot along with another round of antibiotic at the same time. Y'all just go ahead and be praying for that trip now, I get the feeling it's going to be a doozie. And go ahead and add her nurse to the prayer list too because whoever gets her that day will need the prayers!
Even though she didn't feel great Kayleigh and I had a good day being home together. We worked on fine motor skills by making bouncy balls nearly all day. It required her to use both hands, steady herself, and think. It was great to see her having fun. We have a one way to go to get her right hand back up to speed. I am also noticing a little more hearing loss on her right side. One of the concerns with this tumor is that once it causes damage to a certain "connection", even if the tumor shrinks the connection rarely repairs itself. So as we see skills digress we worry about being able to get them back.
So prayer warriors, here's your list…
1.) Complete healing this side of heaven.
2.) The stomach to calm down!!
3.) We find food that doesn't hurt!
4.) Her right side regains strength.
5.) Her hearing improves.
6.) Get off these steroids.
7.) No headaches.
Yes, today was a better day. It had to be – when all of you go on high alert we see changes! I went to bed last night knowing I had called in the troops, and that you all would be moving mountains. I went to sleep without worry, trusting that today would be a better day. You can't know how thankful we are for each of you that prayers on our behalf. Our God is an awesome God and I know He is listening.
Jeremiah 32:17
"O Sovereign Lord! You made the heavens and earth by your strong hand and powerful arm. Nothing is too hard for you!
1 Peter 2:24
He personally carried our sins in his body on the cross so that we can be dead to sin and live for what is right. By his wounds you are healed.
By His wounds… That is more than enough. Good night friends.
Until tomorrow,
'Carrow💜
I meant to take bouncy ball making pictures today but I forgot. Kayleigh said "just take a selfie for tonight," so we did 💜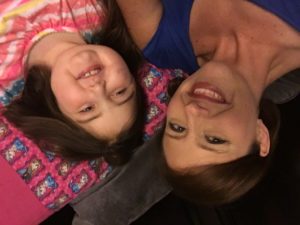 We also played with make-up tonight. It was fun but Grace looks WAY too old!