Island update…
We are in Punta Cana, Dominican Republic on the Isle of Hispaniola. If you are weather aware you know Irma, a category 5 hurricane, is headed this way. Yikes!
Yes, we are aware – no, we cannot get a flight home before the storm hits. What we can do is alert our prayer warriors. We are talking with the resort, our travel agent, and contacting travel companies on our own. If we cannot get to the states we are looking at other options not in the line of the storm. And if God doesn't provide any of those options, we trust that He has a reason for us to be here – we just don't know what it is yet. As we learned with Kayleigh, sometimes we don't understand what God is doing when we are in the storm, but His plan is always perfect.
If we cannot get out here are a couple positive things – first, the resort is well prepared for this kind of event with plenty of food and bottled water. Second, I was raised by a Green Beret that taught me to always be prepared. We traveled here with basic first aid, blankets, solar charger, and our own water filtration system, just in case. Always be prepared, never panic – words of wisdom from my Da.
We are certainly staying aware of the situation, but we refuse to worry.
I will go back to making regular updates on the page until we get home. Will you please follow along with us and cover us with prayer? We are so blessed to have an army of people behind us.
Much love – Until tonight,
'Carrow💜
Isaiah 55:8-9
8 "My thoughts are nothing like your thoughts," says the Lord. "And my ways are far beyond anything you could imagine. 9 For just as the heavens are higher than the earth, so my ways are higher than your ways and my thoughts higher than your thoughts.
this is what it looks like now…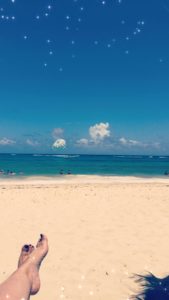 This is the current projected track – we are the blue dot…