April 29, 2017
Guess what happens when your wife is away at a women's conference all weekend? You have a Cotillion Spring Ball and State Tournament for Softball on one of the hottest April weekends that I can remember. And everyone has survived and been on time to all required events up to this point. Yes Carrow is off enjoying the Women of Joy conference this weekend with a group from our Church which is something she's been looking forward to for a while. With Carrow gone we had to recruit some outside help for Grace's attire, makeup, hair, etc. We all know how that would have gone down if it was left up to me. By the time I made it home from work, my already gorgeous Grace had been transformed into a Princess and it was another reminder to enjoy every moment with my kids. Cole was able to go enjoy some time with his Uncle Rob during our Cotillion outing. Meanwhile Grace was able to remind me of what a miserable dancer that I truly am. Even though the AC was not functioning at this semi-formal event, myself along with other dads and their children learned how to do the Cupid Shuffle along with the Fox Trot. After three hours of Cotillion last night we came home to get ready for a full day at the ball park today. Even though Cole is not a lover of sports like his older sister he enjoys running around the ballpark and of course buying as much junk as possible from the concession stand. This is normally followed by "Why is that child crying? and why are you carrying a nerf gun and a light saber?" Today was a fairly short softball day from 8am to close to 8pm but Grace managed to play pretty well and make us proud as always. Talking to 'Carrow tonight, I was able to fill her in on how the day went but of course Grace was missing one of her number one fans with her mom away. We did have a special #14 come see us today because she had a younger sibling playing softball and that was a nice surprise for Grace and I.
We still continue to see God at work with Kayleigh's story whether it be at the ball field or hours away at a Women's conference. It is pretty awesome to watch the Master at work when you know what to look for.
Until Tomorrow
Tim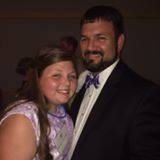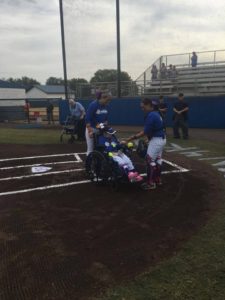 Our special #14 escorting Kayleigh around the bases.
A picture of KB that came up today.  This is well before she was playing softball but she was definitely in the middle of all things including this pictures.